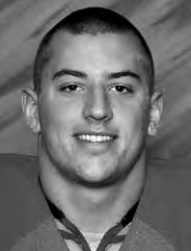 Nationality

United States

Position

ST, SS

Hometown

Xenia, OH

High School

Beavercreek

Height

6'3"

Weight

215

Past Teams

Ohio State

Seasons

2008, 2009, 2010, 2011, 2012
Pronunciation: DOM-uh-cone
Major: Marketing (2010-12)
Weight: 216 (2012), 211 (2010-11), 215 (2008)
2012 Media Guide: Zach is in his fifth year with the football program and he already has his bachelor's degree in marketing (June, 2012) … he is a three-time letterwinner as well as a three-time OSU Scholar-Athlete and a three-time Academic All-Big Ten Conference honoree … he has played in 25 games over the last three years after initially red-shirting the 2008 campaign … Zach played in 12 of 13 games in 2011, missing only the Taxslayer.com Gator Bowl with a knee issue that required surgery following the season (and kept him out of the 2012 spring drills) … he has 18 career tackles with 10 of those coming during the 2011 season, and personal-bests of three tackles made during the Colorado and Michigan games, respectively … he has a penchant for making big plays: last year he recovered a fumble in the win over Colorado; in 2010 he returned a block punt for a touchdown against Minnesota; and in 2009
he recovered a Minnesota fumble on the opening kickoff of the second half.
2011 Media Guide: Continues to gain confidence through experience.
2010: backup to Orhian Johnson at strong safety … a key contributor on the special units … returned a blocked punt for a touchdown at Minnesota … scout team workhorse: Illinois … academic all-Big Ten … second-year letterman.
2010 Media Guide: safety prospect who will also contribute on the special units this season … will work during spring practice along with Orhian Johnson, Tyler Moeller and Jamie Wood.
2009: Redshirt freshman safety … recovered a Minnesota fumble on the opening kickoff of the second half … first-year letterwinner.
2008: Did not see varsity action for the Big Ten champions … took a redshirt and worked on the scout squads … scout team workhorse: Youngstown State, Wisconsin.
High School: Rushed for 1,111 yards and nine scores as a senior … also passed for 572 yards and five TD … first team all-area and all-GWOC … two-time team MVP and received the Paul Martin Award … second team all-SW district … finished fourth in the state in the 4×400 and sixth in the state in the 4×200 relays … also a basketball letterman.
Personal: Son of Fred and Stacey Domicone.
Defense
| Season | Team | G | GS | Tkl | Solo | Asst | TFL | TFL Yds | Sacks | Sack Yds | FF | FR | Int | Int Yds | PBU | Blk | Def TD |
| --- | --- | --- | --- | --- | --- | --- | --- | --- | --- | --- | --- | --- | --- | --- | --- | --- | --- |
| 2009 | Ohio State | 6 | NA | 4 | 2 | 2 | 0 | 0 | 0 | 0 | 0 | 1 | 0 | 0 | 0 | 0 | 0 |
| 2010 | Ohio State | 7 | NA | 4 | 3 | 1 | 0 | 0 | 0 | 0 | 0 | 0 | 0 | 0 | 0 | 0 | 1 |
| 2011 | Ohio State | 12 | NA | 10 | 7 | 3 | 0 | 0 | 0 | 0 | 0 | 1 | 0 | 0 | 0 | 0 | 0 |
| Total | - | 25 | 0 | 18 | 12 | 6 | 0 | 0 | 0 | 0 | 0 | 2 | 0 | 0 | 0 | 0 | 1 |