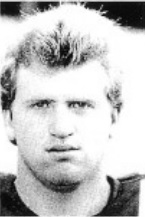 Nationality

United States

Position

LS, ST, C

Birthday

2/19/1966

Hometown

Orrville, OH

High School

Orrville

Height

6'3"

Weight

227

Current Team

Ohio State

Seasons

1985, 1986, 1987, 1988
Major: Business Management (1985-88)
Weight: 227 (1988), 226 (1987), 200 (1985)
1988 Media Guide: Is starting his fourth year as the long snapper for punts, extra points and field goals … is the first player ever recruited at Ohio State specifically to make long snaps … has played in 36 consecutive games for the Buckeyes … has been very consistent throughout his career, with just two errant snaps in three years … has added 26 pounds since coming to Ohio State … OSU coaches discovered him when they were looking at former OSU punter Tom Bolyard.
1987 Media Guide: Makes the center snaps for punts, extra points and field goals … has played in all 25 games the past two years.
1985-86: Did not have an errant snap during the 1985 season, but did have two errant center passes in 1986.
High School: Was essentially a specialist at Orrville High, being used for snaps on punts, extra points and field goals … also played defensive tackle and center … top grid iron thrill came when he recovered a fumble to set up a winning touchdown.
Personal: Hobby is reading … calls playing in his first game in Ohio Stadium his greatest thrill in athletics … admires Keith Byars and Mike Webster.
Offense
| Season | Team | G | GS | FR |
| --- | --- | --- | --- | --- |
| 1985 | Ohio State | 12 | 0 | 0 |
| 1986 | Ohio State | 13 | 0 | 0 |
| 1987 | Ohio State | 11 | 0 | 0 |
| 1988 | Ohio State | 11 | 0 | 0 |
| Total | - | 47 | 0 | 0 |
Defense
| Season | Team | G | GS | Tkl | Solo | Asst | FR |
| --- | --- | --- | --- | --- | --- | --- | --- |
| 1985 | Ohio State | 12 | 0 | 3 | 0 | 3 | 0 |
| 1986 | Ohio State | 13 | 0 | 2 | 1 | 1 | 0 |
| 1987 | Ohio State | 11 | 0 | 3 | 2 | 1 | 0 |
| 1988 | Ohio State | 11 | 0 | 0 | 0 | 0 | 0 |
| Total | - | 47 | 0 | 8 | 3 | 5 | 0 |