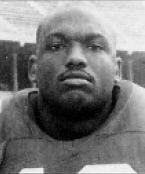 Nationality

United States

Position

QB, DE, OLB

Birthday

9/14/1971

Hometown

Columbus, OH

High School

South

Height

6'4"

Weight

230

Current Team

Ohio State

Seasons

1990, 1991, 1992, 1993, 1994
2015: Sentenced to seven year prison sentence for defrauding investors in a business venture.
Major: Psychology (1991-94)
Weight: 245 (1994), 244 (1993), 245 (1992), 235 (1991), 230 (1990)
1994 Media Guide: One of the top athletes on the squad, also one of the most frustrated because of a chronic pelvic inflammation that has limited his playing time to a total of 21 career minutes, all last year … got through fall camp last season with no problems, but was able to play in just three games before pulling up lame … appeared to be OK in the spring and is hopeful of finally being able to show what he can do this year… has tremendous potential and could be a real bonus for the defense.
1993: Played in the first three games and had six tackles and a pass broken up … had his first four career tackles against Rice… 13 minutes at Pittsburgh was his longest stint of the year.
1993 Media Guide: Appears to finally be recovered from a chronic pelvic inflammation that has kept him from either practicing or playing the past three years … took part in spring drills and is expected to be full-go in the fall … one of the top all-around athletes on the squad … coaches are confident that he can be a major contributor this fall even though he has been away from organized competition for three years … should be an excellent pass rusher because of his combination of speed and strength … played very well in the spring game and is anxious to show what he can do when healthy.
1992 Media Guide: Hard-luck player who has been idle the past two years because of nerve inflammation in the groin and pelvic region … doctors hope a prescription change will quiet down the area and let him return to a promising football career … came to Ohio State as one of the top high school quarterback prospects in the country, but missed the fall of his freshman year due to the injury … healthy in the spring, he switched to linebacker and locked up a backup spot behind Mark Williams, but then missed all of the 1991 season when the injury flared up again … after two years away from competition, his return will not be easy, but OSU coaches believe he still can be a tremendous plus … healthy, he is one of the top athletes on the squad.
1991 Media Guide: His move to defense rates as the most successful experiment of the spring … came to Ohio State as a highly touted option quarterback and was redshirted in the fall … asked to move to linebacker in the spring and quickly established himself as the backup to Mark Williams on the drop side … one of the best athletes on the Ohio State team … has the potential to be a great player … will see a lot of action this fall … groin pull sidelined him all last fall.
1990 Media Guide: Outstanding high school athlete who excelled at quarterback and linebacker, but much prefers to play the former in college … Randall Cunningham-type player who accounted for 1,500 yards and 12 touchdowns last year in an option system … has 4.6 speed and is extremely strong … has the arm to throw the ball deep … three-year starter at quarterback and also played strong safety and linebacker on defense … won all-state honors and named to several prep All-American teams as a senior … 84-yard TD run last year… devoted the summer to getting in the best possible physical condition for his freshman season at Ohio State … wants to major in kinesiology.
Personal: Interested in a career in sports psychology … his father played three sports at Bluefield State in West Virginia … hobbies include drawing (cartoons and still life) and weight lifting.
Offense
| Season | Team | G | GS |
| --- | --- | --- | --- |
| 1991 | Ohio State | 0 | 0 |
| 1992 | Ohio State | 0 | 0 |
| 1993 | Ohio State | 3 | 0 |
| 1994 | Ohio State | 9 | 0 |
| Total | - | 12 | 0 |
Defense
| Season | Team | G | GS | Tkl | Solo | Asst | TFL | TFL Yds | Sacks | Sack Yds | FF | Int | PBU |
| --- | --- | --- | --- | --- | --- | --- | --- | --- | --- | --- | --- | --- | --- |
| 1991 | Ohio State | 0 | 0 | 0 | 0 | 0 | 0 | 0 | 0 | 0 | 0 | 0 | 0 |
| 1992 | Ohio State | 0 | 0 | 0 | 0 | 0 | 0 | 0 | 0 | 0 | 0 | 0 | 0 |
| 1993 | Ohio State | 3 | 0 | 6 | 0 | 6 | 0 | 0 | 0 | 0 | 0 | 0 | 1 |
| 1994 | Ohio State | 9 | 0 | 31 | 17 | 14 | 2 | 12 | 1 | 6 | 1 | 0 | 0 |
| Total | - | 12 | 0 | 37 | 17 | 20 | 2 | 12 | 1 | 6 | 1 | 0 | 1 |