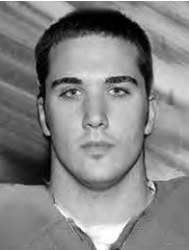 Nationality

United States

Position

DE

Hometown

Washington Court House, OH

High School

Miami Trace

Height

6'4"

Weight

245

Past Teams

Ohio State

Seasons

2008, 2009, 2010, 2011, 2012
Jersey #: 43 (2010-12), 39 (2008-09)
Major: Communication (2011-12), Undeclared (2008-10)
Weight: 249 (2012), 255 (2011), 260 (2010), 245 (2008-09)
2012 Media Guide: Nathan is a fifth-year senior and a talented football player whose return to the playing field is eagerly anticipated by the Ohio State coaching staff … a veteran of 35 games, Nathan had started 12 times for the Buckeyes – since early in his sophomore season – until a knee issue ultimately ended his junior season in 2011 after just one game … he later had surgery on the knee and he has been in a rehabilitation mode since … Nathan is a tremendous pass rusher who has the quickness and ability to drop into coverage … he enters his senior season with 21.5 career tackles-for-loss and 10 quarterback sacks – both totals are second among current Buckeyes – among his 92 career tackles … he also has an interception, four pass break-ups, two force fumbles and two fumble recoveries … he has multiple quarterback sacks in two games (2008 vs. Northwestern and 2009 vs. Purdue).
2011 Media Guide: Defensive end with tremendous pass rush ability … 89 career tackles, 20.5 TFL
… promising pass rusher with all the physical intangibles … has gained great confidence through
game experience.
2010: Missed Marshall opener with injury … 22-yard interception against Miami on the Hurricanes' first possession … fumble recovery and 3 tackles against Ohio … team-best 6 tackles against Eastern Michigan, with a TFL … 9 tackles, 2 TFL and a sack at Illinois … 5 tackles, 1.5 TFL in Indiana win … 4 tackles at Wisconsin … sack and 3 tackles in the Purdue victory … 5 tackles and a 5-yard sack at Minnesota … recovered a Michigan fumble … 6 tackles, 2.5 TFL against the Wolverines … Attack Force award: Indiana, Minnesota, Michigan … third-year letterman.
2010 Media Guide: promising pass rusher with all the physical intangibles … has gained great confidence through game experience … 12 career TFLs and 5.5 sacks … working to obtain a starting job at end.
2009: Had 26 tackles, eight TFL, 3.5 sacks for the season … 7-yard TFL against Navy … two stops vs. USC … 6-yard sack in the Toledo game … three tackles and a sack at Indiana … 9-yard sack, five tackles in the Wisconsin win … pair of sacks at Purdue … 4-yard sack in Minnesota win … forced the New Mexico State fumble that Brian Rolle recovered for a touchdown … three tackles in win at Michigan … Top Ten Tenacious three times … second-year letterwinner.
2009 Media Guide: Promising pass rusher with all the physical intangibles … gained great confidence through game experience as a true freshman … continued to increase his confidence in his role during spring drills.
2008: 18 tackles for year … a key component of the Buckeye pass rush … two sacks at Northwestern … TFL in Fiesta Bowl … outstanding first-year defensive player from OSU coaches … first-year letterman.
High School: All-Ohio defender who was district defensive player of year as a junior and senior … 139 tackles, 15 TFL, five sacks for the South Central League champions … also rushed for 524 yards and 10 scores … three times an all-league, all-district and all-Ohio honoree … Big 33 game … ONN all-Ohio … Scout, Rivals, Superprep Top 250 … PrepStar All-America … Buckeye BlueChip … also a basketball and track letterman … teacher's assistant and DARE role model.
Personal: Son of Trina White and Phillip Williams … favorite candy is Butterfinger … favorite vacation spot is California.
Defense
| Season | Team | G | GS | Tkl | Solo | Asst | TFL | TFL Yds | Sacks | Sack Yds | FF | FR | Int | Int Yds | PBU | Blk | Def TD |
| --- | --- | --- | --- | --- | --- | --- | --- | --- | --- | --- | --- | --- | --- | --- | --- | --- | --- |
| 2008 | Ohio State | 9 | 0 | 18 | 9 | 9 | 4.0 | 37 | 2.0 | 27 | 0 | 0 | 0 | 0 | 0 | 0 | 0 |
| 2009 | Ohio State | 13 | 0 | 26 | 15 | 11 | 8.0 | 37 | 3.5 | 26 | 1 | 0 | 0 | 0 | 1 | 0 | 0 |
| 2010 | Ohio State | 12 | 11 | 46 | 21 | 25 | 9.5 | 44 | 4.5 | 35 | 1 | 2 | 1 | 22 | 3 | 0 | 0 |
| 2011 | Ohio State | 1 | 1 | 2 | 2 | 0 | 0 | 0 | 0 | 0 | 0 | 0 | 0 | 0 | 0 | 0 | 0 |
| Total | - | 35 | 12 | 92 | 47 | 45 | 21.5 | 118 | 10 | 88 | 2 | 2 | 1 | 22 | 4 | 0 | 0 |