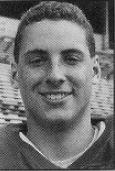 Nationality

United States

Position

K, P

Birthday

5/18/1975

Hometown

Dublin, OH

High School

Dublin

Height

6'3"

Weight

212

Current Team

Ohio State

Seasons

1993, 1994, 1995, 1996
Pronunciation: MAL-fut
Major: Environmental Science (1995-96), Unknown (1993-94)
Weight: 205 (1995-96), 210 (1994), 212 (1993)
1996 Media Guide: In his third year as the Buckeyes' kickoff specialist … is also the backup on extra points and the field goal kicker for anything longer than 40 yards (no attempts last year) … can also punt if need be … struggled with his consistency as a freshman and never seemed to get into any kind of a rhythm … improved his leg strength last year and was much more consistent … continued to make progress last spring and appears to have regained the form that made him one of the top kickers in the Midwest as a prepster … still looking for his first collegiate field goal.
1995 Media Guide: Will be in his second year as the Buckeyes' kickoff specialist and will contend for the starting punter's spot … handled all the kickoff chores last year and consistently booted the ball deep downfield … is also the backup extra point kicker and handles the long field goal kicking (35-yard line and beyond) … was 0-4 in field goal attempts last year, but his misses were from 43, 47, 53 and 56 yards, hardly chip shots … made one of two extra points (both against Houston).
Other: Redshirted as a freshman in 1993… was born in New Jersey and moved to Ohio at age nine … hobbies include hunting, camping and reading … active in scouting and attained the rank of Eagle Scout … played soccer through the seventh grade before switching to football.
1994 Media Guide: In the running for the starting place kicking duties this season … can also help out as a punter … has worked hard to become more consistent and has improved his strength … may divide time with Josh Jackson and handle kickoffs and longer field goals.
1993: Redshirted.
1993 Media Guide: Made 9 of 14 field goals and 9 of 10 extra points as a senior and averaged 39.3 yards on 36 punt attempts … was selected first team Division I all-state as a punter and earned All-America honors from USA Today and Blue Chip Illustrated … connected on 8 of 12 field goals and 28 of 31 extra point kicks as a junior … longest field goals were 49 yards as a junior and a 47 yards as a senior… punting average was 39.6 as a junior when he was a second team all-state selection … was a four-year starter at Dublin … career totals were 94 of 108 PATs and 22 of 34 field goals… helped his team go 10-1 and reach the state playoffs his junior year … played soccer through the seventh grade before switching to football … did play club soccer in high school and his volleyball team won a state crown in 1992 … high school coach was Bryan Deal … was born in New Jersey … enjoys hunting, camping and reading in his free time … an honor student who plans to major in zoology and is interested in a career in medicine.
Offense
| Season | Team | G | GS | XP | XPA | FG | FGA |
| --- | --- | --- | --- | --- | --- | --- | --- |
| 1994 | Ohio State | 12 | 0 | 1 | 2 | 0 | 3 |
| 1995 | Ohio State | 10 | 0 | 0 | 0 | 0 | 0 |
| 1996 | Ohio State | 5 | 0 | 0 | 0 | 0 | 0 |
| Total | - | 27 | 0 | 1 | 2 | 0 | 3 |
Defense
| Season | Team | G | GS | Tkl | Solo | Asst |
| --- | --- | --- | --- | --- | --- | --- |
| 1994 | Ohio State | 12 | 0 | 1 | 1 | 0 |
| 1995 | Ohio State | 10 | 0 | 1 | 1 | 0 |
| 1996 | Ohio State | 5 | 0 | 0 | 0 | 0 |
| Total | - | 27 | 0 | 2 | 2 | 0 |