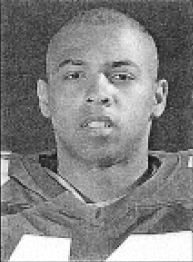 Nationality

United States

Position

SE, ST, TB, CB

Height

5'10"

Weight

183

Birthday

2/8/1976

Hometown

Redmond, WA

High School

Kirkland Juanita

Current Team

Ohio State

Seasons

1994, 1995, 1996, 1997, 1998
Major: Journalism (1997), Education (1995-96), Unknown (1994)
Weight: 183 (1995-97), 173 (1994)
1997 Media Guide: Was a valuable member of the special teams last year and hopes to see additional playing time this year as a back-up wide receiver… emerged from spring practice as the No. 2 flanker … can also play split end … came to OSU as a running back and has also played cornerback … just wants to contribute and will do whatever is necessary to help the team … still looking for his first pass reception.
1996: Played in all 12 games as a member of the special teams and logged a total of 30 minutes … the biggest play of his collegiate career came at Iowa when he recovered a blocked punt in the end zone for an OSU touchdown … also forced a fumble against Pittsburgh … wound up the year with seven tackles, all solos.
1996 Media Guide: Playing his third position in as many years with the Buckeyes … began his career at tailback in 1994, but did not see any game action as a true freshman … was moved to cornerback in the spring of '95 and appeared in 10 games last year with most of his playing time coming as a member of the special teams … showed promise as a cornerback, but was switched back to offense last spring in an effort to shore up the depth at wide receiver … enters the current season as a back-up split end … is a good athlete with the speed and hands to be an effective receiver … was in on six tackles last year in just 11 minutes of playing time … two tackles at Minnesota and against Indiana were his top games.
1995 Media Guide: Redshirted last year as a true freshman … was moved from tailback to defensive back in the spring … responded with an interception in his first practice as a DB … continued his impressive play in the spring and appears to have a bright future in the secondary … plays the boundary corner behind Ty Howard … the nephew of former OSU star Archie Griffin … grew up in Columbus, but moved to Seattle at age 11 … is the fourth Griffin to play for the Buckeyes, joining uncles Archie (who wore No. 45}, Ray (44) and Duncan (46).
High School: The first high school senior to publicly commit to the Buckeyes … played in just seven games as a senior due to injuries, but still rushed for 584 yards and nine touchdowns and earned all-state honors and All-America mention … also had 15 receptions for 185 yards and two touchdowns and played defensive back … earned all-county honors on offense as a senior and played on both offense and defense as a junior … rushed for 671 yards as a junior … played quarterback as a sophomore, and completed 96 of 140 passes for 521 yards and five TDs … Kevin also competed in track … plans to major in business … high school coach was Mike Thomas.
Personal: Was born in Columbus, but moved to the Seattle area when he was 11 … the nephew of former Ohio State tailback Archie Griffin, the only two-time winner of the Heisman Trophy who rushed for 5,589 yards during his Buckeye career … Archie is currently an associate athletic director at OSU … Archie's brothers and Kevin's uncles, Ray and Duncan, also played football tor the Buckeyes … father graduated from Muskingum College, where he played football.
Offense
| Season | Team | G | GS | Tgt | Rec | Rec Yds | Rec TD | Lng | Fum | FR | Def TD |
| --- | --- | --- | --- | --- | --- | --- | --- | --- | --- | --- | --- |
| 1994 | Ohio State | 0 | 0 | 0 | 0 | 0 | 0 | 0 | 0 | 0 | 0 |
| 1995 | Ohio State | 10 | 0 | 0 | 0 | 0 | 0 | 0 | 0 | 0 | 0 |
| 1996 | Ohio State | 12 | 0 | 0 | 0 | 0 | 0 | 0 | 0 | 1 | 1 |
| 1997 | Ohio State | 13 | 0 | NA | 2 | 18 | 0 | 11 | NA | NA | 0 |
| 1998 | Ohio State | 10 | 0 | NA | 2 | 19 | 0 | 14 | NA | 0 | 0 |
| Total | - | 45 | 0 | 0 | 4 | 37 | 0 | 25 | 0 | 1 | 1 |
Defense
| Season | Team | G | GS | Tkl | Solo | Asst | TFL | TFL Yds | FF | FR | Def TD |
| --- | --- | --- | --- | --- | --- | --- | --- | --- | --- | --- | --- |
| 1994 | Ohio State | 0 | 0 | 0 | 0 | 0 | 0 | 0 | 0 | 0 | 0 |
| 1995 | Ohio State | 10 | 0 | 6 | 6 | 0 | 0 | 0 | 0 | 0 | 0 |
| 1996 | Ohio State | 12 | 0 | 6 | 5 | 1 | 0 | 0 | 1 | 1 | 1 |
| 1997 | Ohio State | 13 | 0 | 22 | 20 | 2 | 1 | 1 | 0 | NA | 0 |
| 1998 | Ohio State | 10 | 0 | 8 | 6 | 2 | 0 | 0 | 0 | 0 | 0 |
| Total | - | 45 | 0 | 42 | 37 | 5 | 1 | 1 | 1 | 1 | 1 |