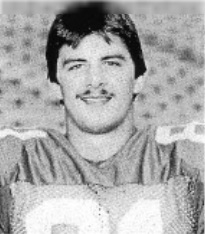 Nationality

United States

Position

ST, TE

Height

6'3"

Weight

232

Birthday

12/1/1963

Hometown

Atwater, OH

High School

Waterloo

Past Teams

Ohio State

Seasons

1984, 1985, 1986
Major: Recreation Education (1986), Geology (1984-85)
Weight: 232 (1986), 236 (1985), 228 (1984)
1986 Media Guide: An example of how a good athlete can play major college football even though he attended a small high school … was moved to tight end in college.
1985: Played 160.5 minutes in 1985, seeing action in all 12 games … caught three passes but was most effective as a blocker.
1985 Media Guide: A strong showing in spring drills indicated he is ready to help … provides good depth at tight end, Ohio State's deepest position … a determined blocker who plays with all-out effort … caught six passes in the spring game in Berea and four in the Ohio Stadium game … practiced as an outside linebacker in 1982 but did not see any game action … moved to tight end in the spring of 1983.
1984: Lettered.
1983: Moved to tight end to take advantage of his blocking ability … saw brief action in three games as a freshman.
1982: Practiced as an outside linebacker in 1982 at Ohio State but did not see any game action.
High School: Was a quarterback and linebacker at Waterloo High School … was the team punter as well as the kickoff and extra point specialist.
Personal: Hobbies are hunting and fishing … admires Dick Butkus, Russ Francis and John Frank … married.
Offense
| Season | Team | G | GS | Rec | Rec Yds | Rec Avg | Rec TD | Lng | Fum | Lost | FR | Def TD |
| --- | --- | --- | --- | --- | --- | --- | --- | --- | --- | --- | --- | --- |
| 1984 | Ohio State | 6 | 0 | 0 | 0 | 0 | 0 | 0 | 0 | 0 | 0 | 0 |
| 1985 | Ohio State | 12 | 0 | 3 | 24 | 8.0 | 0 | 9 | 0 | 0 | 0 | 0 |
| 1986 | Ohio State | 13 | 1 | 0 | 0 | 0 | 0 | 0 | 0 | 0 | 0 | 0 |
| Total | - | 31 | 1 | 3 | 24 | 8.0 | 0 | 9 | 0 | 0 | 0 | 0 |
Defense
| Season | Team | G | GS | Tkl | Solo | Asst | TFL | TFL Yds | Sacks | Sack Yds | FF | FR | Int | Int Yds | PBU | Blk | Def TD |
| --- | --- | --- | --- | --- | --- | --- | --- | --- | --- | --- | --- | --- | --- | --- | --- | --- | --- |
| 1984 | Ohio State | 6 | 0 | 0 | 0 | 0 | 0 | 0 | 0 | 0 | 0 | 0 | 0 | 0 | 0 | 0 | 0 |
| 1985 | Ohio State | 12 | 0 | 1 | 1 | 0 | 0 | 0 | 0 | 0 | 0 | 0 | 0 | 0 | 0 | 0 | 0 |
| 1986 | Ohio State | 13 | 1 | 3 | 2 | 1 | 0 | 0 | 0 | 0 | 0 | 0 | 0 | 0 | 0 | 0 | 0 |
| Total | - | 31 | 1 | 4 | 3 | 1 | 0 | 0 | 0 | 0 | 0 | 0 | 0 | 0 | 0 | 0 | 0 |