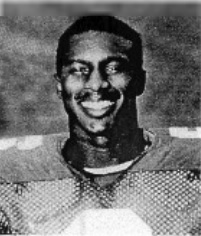 Nationality

United States

Position

FL, ST

Height

6'2"

Weight

186

Birthday

2/1/1964

Hometown

Wake Forest, NC

High School

Rolesville, NC

Past Teams

Ohio State

Seasons

1984, 1985, 1986
Post-OSU Update: Jamie Holland was a seventh-round pick (173rd overall) in the 1987 NFL Draft by the San Diego Chargers. Holland played 80 games over six seasons with three different teams. He finished with 73 receptions for over 1,000 yards and a touchdown. He was an accomplished kick returner, averaging 21.1 yards per return on 133 attempts, scoring one touchdown. After the NFL, Holland continued his career in the CFL. (updated: Apr. 2023)
Major: Recreation Education (1986)
Weight: 186 (1986), 184 (1985)
1986 Media Guide: One of the fastest men on the team, timed at 4.34 in the 40.
1985: Redshirted.
1985 Media Guide: The fastest man on the team, timed at 4.34 in the 40 … caught a touchdown pass in the Spring Game in Columbus.
1984: Entered Ohio State in the fall of 1984 and saw brief action in seven games, mostly on special teams.
JUCO: Became a wide receiver at Butler County Community College in El Dorado, Kansas, catching 31 passes, including 11 for touchdowns in 1983.
High School: A graduate of Rolesville High School in Wake Forest … won all-North Carolina honors in high school as a running back, when he gained 1,340 yards and scored 17 touchdowns as a senior … was a sprinter in track and long jumped 24′-1″.
Personal: From a family of eight.
Offense
| Season | Team | G | GS | Rush Att | Rush Yds | Rush Avg | Rush TD | Rec | Rec Yds | Rec Avg | Rec TD | Lng | Fum | Lost | FR | KR | KR Yds | KR Avg | KR TD |
| --- | --- | --- | --- | --- | --- | --- | --- | --- | --- | --- | --- | --- | --- | --- | --- | --- | --- | --- | --- |
| 1984 | Ohio State | 7 | 0 | 3 | 7 | 2.3 | 0 | 2 | 20 | 10.0 | 0 | 11 | 1 | 0 | 1 | 1 | 17 | 17 | 0 |
| 1986 | Ohio State | 12 | 0 | 8 | 3 | 0.4 | 1 | 8 | 142 | 17.8 | 1 | 37 | 1 | 0 | 1 | 24 | 503 | 20.9 | 0 |
| Total | - | 19 | 0 | 11 | 10 | 0.9 | 1 | 10 | 162 | 16.2 | 1 | 37 | 2 | 0 | 2 | 25 | 520 | 20.8 | 0 |
Defense
| Season | Team | G | GS | Tkl | Solo | Asst | FR | KR | KR Yds | KR Avg | KR TD |
| --- | --- | --- | --- | --- | --- | --- | --- | --- | --- | --- | --- |
| 1984 | Ohio State | 7 | 0 | 0 | 0 | 0 | 1 | 1 | 17 | 17 | 0 |
| 1986 | Ohio State | 12 | 0 | 2 | 2 | 0 | 1 | 24 | 503 | 20.9 | 0 |
| Total | - | 19 | 0 | 2 | 2 | 0 | 2 | 25 | 520 | 20.8 | 0 |