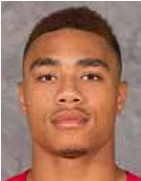 Nationality

United States

Position

ST, WR

Height

6'0"

Weight

205

Hometown

Middletown, OH

High School

Middletown

Past Teams

Ohio State

Seasons

2013, 2014, 2015
Pronunciation: JAY-lin
Major: Criminology (2015), Undeclared (2013-14)
Weight: 205 (2014-15), 190 (2013)
2015 Media Guide: Jalin Marshall is a tough and physical H-back with north-south speed who is in his third year with the program and with sophomore eligibility … after red-shirting the 2013 season while learning the intricacies of receiver after a high school career as a dual threat quarterback, Marshall
became a go-to performer for the Buckeyes with 559 snaps on offense to trail only Michael Thomas (604) among the receivers … he also contributed 104 plays on special teams and was one of the top punt returners in the nation, talents that have earned him accolades as a preseason All-American heading into the 2015 campaign … has caught a pass in 13 consecutive games (current) and has caught at least two passes in seven consecutive games … has scored eight touchdowns three different ways: six receiving, one rushing and one off a punt return … earned his first Varsity O letter last season.
2014 Media Guide: Jalin Marshall red-shirted the 2013 season as a true freshman … he played wide receiver last fall – his first extended action at the position after a high school career as a quarterback – and he moved to the H-back position fulltime this spring … was progressing nicely but ended up missing all but a handful of practices this spring after injuring a knee and requiring surgery.
2013 Media Guide: Jalin Marshall was considered the No. 1 prospect in Ohio by 247Sports and the No. 2 prospect as a senior by ESPN and Rivals … he was the second to commit to Ohio State in this Class
of 2013, announcing his decision in late January 2012.
High School: He was a skilled quarterback who rushed for a school-record 4,759 yards during his career, including more than 1,400 yards as a senior with 14 touchdowns scored … a five-star prospect by Scout, he played receiver in the 2013 Under Armour All-America game and had a 44-yard reception … as a quarterback, he passed for 2,240 yards as a senior … also totaled 4,929 all-purpose yards for coach Troy Everhart during his career and scored 52 rushing touchdowns and 54 total touchdowns (two receiving) … one of the Top 50 prospects in the nation (ESPN, Rivals, Scout) … had a 56-yard touchdown rush on his first varsity carry as a freshman, and rushed for a career high 312 yards as a senior vs. state champion Cincinnati Moeller … led Middletown to its first Greater Miami Conference championship in more than 20 years in 2010 … accomplishments include winning the 2012 state Division I long jump championship (23.0 feet).
Personal: The son of Richard and Angel Marshall … has older brothers (Richard Jr. and DeAnte), an older sister (Monae) and a younger brother (Blake).
Offense
| Season | Team | G | GS | Comp | Pass Att | Pass Yds | Pass TD | Pass Int | Rush Att | Rush Yds | Rush Avg | Rush TD | Tgt | Rec | Rec Yds | Rec Avg | Rec TD | Lng | 2 Pt Conv | Fum | Lost | KR | KR Yds | KR Avg | KR TD | PR | PR Yds | PR Avg | PR TD |
| --- | --- | --- | --- | --- | --- | --- | --- | --- | --- | --- | --- | --- | --- | --- | --- | --- | --- | --- | --- | --- | --- | --- | --- | --- | --- | --- | --- | --- | --- |
| 2014 | Ohio State | 15 | 0 | 0 | 2 | 0 | 0 | 0 | 25 | 145 | 5.8 | 1 | NA | 38 | 499 | 13.1 | 6 | 57 | 0 | 3 | 2 | 2 | 56 | 28.0 | 0 | 24 | 283 | 11.8 | 1 |
| Total | - | 15 | 0 | 0 | 2 | 0 | 0 | 0 | 25 | 145 | 0 | 1 | 0 | 38 | 499 | 0 | 6 | 57 | 0 | 3 | 2 | 2 | 56 | 0 | 0 | 24 | 283 | 0 | 1 |
Defense
| Season | Team | G | GS | Tkl | Solo | Asst | KR | KR Yds | KR Avg | KR TD | PR | PR Yds | PR Avg | PR TD |
| --- | --- | --- | --- | --- | --- | --- | --- | --- | --- | --- | --- | --- | --- | --- |
| 2014 | Ohio State | 15 | 0 | 0 | 0 | 0 | 2 | 56 | 28.0 | 0 | 24 | 283 | 11.8 | 1 |
| Total | - | 15 | 0 | 0 | 0 | 0 | 2 | 56 | 0 | 0 | 24 | 283 | 0 | 1 |