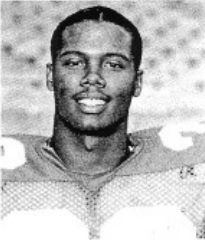 Nationality

United States

Position

FL

Birthday

12/12/1965

Hometown

Middletown, OH

High School

Middletown

Height

6'0"

Weight

192

Past Teams

Ohio State

Seasons

1984, 1985, 1986
Post-OSU Update: Dino Dawson transferred to Kent State for the 1988 football season, catching seven passes for 176 yards and a touchdown. After his playing days, Dawson launched a 25-year coaching career, with several collegiate jobs and a stop in the NFL. He's now working for Clark Atlanta University as the Manager of Corporate Sponsorships. (updated: Apr. 2023)
Jersey #: 4 (1985-87), 24 (1984)
Major: Communications (1986), Undeclared (1984-85)
Weight: 172 (1986), 160 (1985), 164 (1984)
1986 Media Guide: Has seen action as a situation player the past two seasons but figures to see more playing time in 1986 … is a deep threat as a wide receiver because of his exceptional speed … can be used for punt and kickoff returns.
1985 Media Guide: Caught a 54-yard scoring pass in one of the spring games … has excellent speed and the ability to get open.
1984: Won a letter, seeing brief action in nine games … caught 36 and 57-yard touchdown passes against Northwestern as a freshman in 1984.
1984 Media Guide: Has good hands and the speed to go all the way as a wide receiver … will study either business law or accounting.
High School: Caught 48 passes for 925 yards and 12 touchdowns at Cooley High in Detroit as a senior in 1983 … runs the 40 in 4.5 seconds … the Detroit low hurdles champion in both 1982 and '83, finishing second in the state in '83 … also ran sprints.
Personal: Hobbies are basketball and movies.
Offense
| Season | Team | G | GS | Rush Att | Rush Yds | Rush Avg | Rush TD | Rec | Rec Yds | Rec Avg | Rec TD | Lng | Fum | Lost | KR | KR Yds | KR Avg | KR TD | PR | FC | PR Yds | PR Avg | PR TD |
| --- | --- | --- | --- | --- | --- | --- | --- | --- | --- | --- | --- | --- | --- | --- | --- | --- | --- | --- | --- | --- | --- | --- | --- |
| 1984 | Ohio State | 9 | 0 | 2 | 7 | 3.5 | 0 | 4 | 129 | 32.3 | 2 | 57 | 0 | 0 | 0 | 0 | 0 | 0 | 6 | 0 | 22 | 3.7 | 0 |
| 1985 | Ohio State | 3 | 0 | 0 | 0 | 0 | 0 | 0 | 0 | 0 | 0 | 0 | 0 | 0 | 2 | 26 | 13.0 | 0 | 0 | 0 | 0 | 0 | 0 |
| 1986 | Ohio State | NA | NA | 0 | 0 | 0 | 0 | 2 | 18 | 9.0 | 0 | 11 | 0 | 0 | 0 | 0 | 0 | 0 | 0 | 0 | 0 | 0 | 0 |
| Total | - | 12 | 0 | 2 | 7 | 3.5 | 0 | 6 | 147 | 24.5 | 2 | 57 | 0 | 0 | 2 | 26 | 13.0 | 0 | 6 | 0 | 22 | 3.7 | 0 |