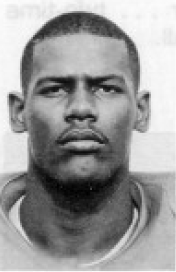 #

94

Name

Derrick Foster

Nationality

United States

Position

DE

Birthday

3/17/1970

Hometown

Dayton, OH

High School

Patterson

Height

6'5"

Weight

250

Current Team

Ohio State

Seasons

1990, 1991, 1992
Post-OSU Update: Derrick Foster was pleading guilty in 2009 to shooting two police officers while working as a Columbus code-enforcement office. He was sentenced to five years in jail.
Major: Sociology (1991-92), Undecided (1990)
Weight: 260 (1992), 255 (1991), 250 (1990)
1992: Media Guide: A valuable reserve the last three seasons who will now start, replacing Alonzo Spellman … played in all 12 games last year and started the Wisconsin and Michigan State contests, but saw just 85 minutes of playing time behind the durable Spellman … longest stint was 13 minutes against both Minnesota and Michigan … finished the year with 15 tackles … experienced football player who makes very few mistakes … has battled an assortment of injuries during his career, and has been slowed, too, by an arthritic hip … has six career starts heading into 1992.
1991: Media Guide: Big, strong athlete who will back up Alonzo Spellman … ideal end because of his quickness … has been bothered by a series of injuries throughout his career, including an arthritic hip condition that has limited his practice time, especially his first two years … played in all 12 games last year and finished with 16 total tackles … has four career starts, two of those coming against Wisconsin and Air Force last year.
1990: Media Guide: Moves to defensive end this year and will be a solid reserve … started two games at outside linebacker last year, but a shoulder injury against Boston College limited his playing time the rest of the season … missed spring practice while recovering from shoulder and knee surgery … very explosive off the line and one of the Buckeyes' better pass rushers … also played tackle his first year, so he can help at a number of different positions … bothered by an arthritic hip condition that limits his practice time, but has not hindered his quickness … a good football player who can step in and start if the occasion warrants.
1990: Played in all 12 games and had 16 total tackles … started the Wisconsin and Air Force games.
1989: Dislocated shoulder versus Boston College and missed the next three games … was used in a reserve role when he returned … had 14 tackles … suffered a knee injury preparing for the Hall of Fame Bowl and underwent surgery in December.
1988: Redshirted.
HIGH SCHOOL: Started on both offense and defense, but garnered the most attention because of his dominating play on the latter … had 18 tackles for losses as a senior … captained the football and basketball teams and was an all-city cage performer … all-state in football and all-city in basketball.
PERSONAL: Lists Ron Harper and Michael Jordan as two of the athletes he most admires … enjoys swimming and playing basketball in his free time.
Defense
| Season | Team | G | GS | Tkl | Solo | Asst | TFL | TFL Yds | Sacks | Sack Yds | FF | FR | Int | PBU |
| --- | --- | --- | --- | --- | --- | --- | --- | --- | --- | --- | --- | --- | --- | --- |
| 1990 | Ohio State | 12 | 2 | 16 | 8 | 8 | 1 | 5 | 1 | 5 | 0 | 0 | 0 | 0 |
| 1991 | Ohio State | 11 | 2 | 15 | 11 | 4 | 1 | 1 | 0 | 0 | 0 | 0 | 0 | 0 |
| 1992 | Ohio State | 12 | 8 | 31 | 19 | 12 | 6 | 42 | 4 | 34 | 0 | 1 | 0 | 1 |
| Total | - | 35 | 12 | 62 | 38 | 24 | 8 | 48 | 5 | 39 | 0 | 1 | 0 | 1 |