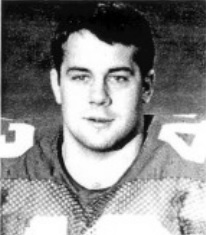 Nationality

United States

Position

FB, ST, TB

Height

6'0"

Weight

217

Birthday

1/4/1964

Hometown

Lancaster, OH

High School

Lancaster

Past Teams

Ohio State

Seasons

1984, 1985, 1986
Major: Business (1984-86)
Weight: 217 (1986), 220 (1985), 218 (1984)
1986 Media Guide: A seemingly endless string of injuries have kept this talented athlete from contributing as he can … the latest was a cyst on his ankle that kept him out of spring football … extremely fast and runs with power … played 58 minutes as a freshman in 1984, 90 minutes as a sophomore and 36.5 in 1985 … injuries have greatly reduced his playing time all three seasons … an honor student throughout college.
1985 Media Guide: Injuries have kept him from contributing as he can … suffered another concussion in spring practice … extremely fast and runs with power … bench presses 365 pounds … moved from fullback to tailback.
1984: Figured to start in 1984 but a preseason concussion and a midseason shoulder sprain limited his play to 90 minutes and to just four starting assignments … averaged 5.1 yards per carry.
1984 Media Guide: An ideal back to team with Byars because Walker combines speed with power.
1983: Won a letter as a reserve … played in 11 games and started against Michigan … averaged 4.7 yards per carry on 26 attempts.
High School: Won all-Ohio honors in football and all-America recognition in track at Lancaster High … ran for 1,129 yards his senior year at Lancaster even though asthma prevented him from playing an entire game … holds the Ohio high school shot put record, 67′ 10 3/4″.
Offense
| Season | Team | G | GS | Rush Att | Rush Yds | Rush Avg | Rush TD | Rec | Rec Yds | Rec Avg | Rec TD | Lng | Fum | Lost | FR | KR | KR Yds | KR TD |
| --- | --- | --- | --- | --- | --- | --- | --- | --- | --- | --- | --- | --- | --- | --- | --- | --- | --- | --- |
| 1984 | Ohio State | 9 | 4 | 30 | 154 | 5.1 | 1 | 4 | 28 | 7.0 | 0 | 24 | 0 | 0 | 0 | 1 | 6 | 0 |
| 1985 | Ohio State | 12 | 0 | 6 | 22 | 3.7 | 0 | 2 | 9 | 4.5 | 0 | 7 | 1 | 1 | 0 | 0 | 0 | 0 |
| 1986 | Ohio State | 13 | 0 | 9 | 35 | 3.9 | 0 | 0 | 0 | 0 | 0 | 11 | 0 | 0 | 0 | 0 | 0 | 0 |
| Total | - | 34 | 4 | 45 | 211 | 0 | 1 | 6 | 37 | 0 | 0 | 24 | 1 | 1 | 0 | 1 | 6 | 0 |
Defense
| Season | Team | G | GS | Tkl | Solo | Asst | FR | KR | KR Yds | KR TD |
| --- | --- | --- | --- | --- | --- | --- | --- | --- | --- | --- |
| 1984 | Ohio State | 9 | 4 | 0 | 0 | 0 | 0 | 1 | 6 | 0 |
| 1985 | Ohio State | 12 | 0 | 6 | 4 | 2 | 0 | 0 | 0 | 0 |
| 1986 | Ohio State | 13 | 0 | 0 | 0 | 0 | 0 | 0 | 0 | 0 |
| Total | - | 34 | 4 | 6 | 4 | 2 | 0 | 1 | 6 | 0 |