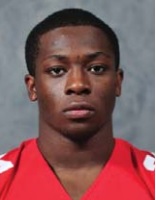 Nationality

United States

Position

CB

Height

5'10"

Weight

198

Hometown

West Roxbury, MA

High School

Catholic Memorial

Past Teams

Ohio State

Seasons

2012, 2013, 2014
Pronunciation: AR-mah-nee
Major: Communications (2014-15), Undeclared (2013)
Weight: 198 (2014-15), 197 (2013), 194 (2012)
2015 Media Guide: Armani Reeves is a true senior who has been granted a medical waiver and whose playing days are over … spent the 2015 spring and summer helping in the cornerback room and interning with local CBS affiliate WBNS 10-TV … Reeves played in 31 games for the Buckeyes, made three starts and was a three-year Varsity O letterwinner.
2014 Media Guide: Armani Reeves is a true junior who has played in 19 games for the Buckeyes over the last two seasons, including making three starts … a two-year Varsity O letter-winner, Reeves will contend for the starting cornerback position open with the departure of first-round NFL Draft pick Bradley Roby … outside of Doran Grant, Reeves is the most experienced of Ohio State's cornerbacks … Reeves was named an OSU Scholar Athlete following the 2012-13 academic year.
2013 Media Guide: Armani Reeves played in six games as a true freshman in 2012 for the undefeated Buckeyes … he missed six games during the season with a knee injury … he was a key member of the special teams when he played, totaling 52 plays with two solo tackles … he did see limited action at cornerback vs. Miami in the season opener … earned his first varsity letter.
2012 Media Guide: Armani Reeves was a Sunday of signing week commitment for Ohio State … Reeves was the No. 6 ranked cornerback in the nation by Scout.com and a four-star-recruit … he also
earned four stars from Rivals.com, which had him ranked as the No. 17 cornerback in the nation and
the No. 2 player in the state of Massachusetts … Rivals.com also had Reeves on its Rivals 250 … SuperPrep had Reeves ranked No. 2 in New England and on its all-Northeast team.
High School: The Catholic Conference overall MVP after a senior season that included 445 rushing yards and nine total touchdowns and 57 tackles and an interception on defense … had four interceptions and two punt return touchdowns as a junior … high school coach was Alex Campea … Reeves and fellow recruiting Class of 2012 commit Camren Williams are high school teammates, not to mention great friends.
Personal: Williams' father, Brent, is Reeves' Godfather … Armani is originally from Alabama … he was
a member of the National Honor Society … he is the son of Victoria Reeves.
Defense
| Season | Team | G | GS | Tkl | Solo | Asst | TFL | TFL Yds | Sacks | Sack Yds | FF | FR | Int | Int Yds | PBU | Blk | Def TD | KR | KR Yds | KR Avg | KR TD |
| --- | --- | --- | --- | --- | --- | --- | --- | --- | --- | --- | --- | --- | --- | --- | --- | --- | --- | --- | --- | --- | --- |
| 2012 | Ohio State | 6 | 0 | 2 | 2 | 0 | 0 | 0 | 0 | 0 | 0 | 0 | 0 | 0 | 0 | 0 | 0 | 2 | 45 | 22.5 | 0 |
| 2013 | Ohio State | 13 | 3 | 26 | 16 | 10 | 0 | 0 | 0 | 0 | 1 | 0 | 1 | 4 | 7 | 0 | 0 | 0 | 0 | 0 | 0 |
| 2014 | Ohio State | 13 | 0 | 14 | 9 | 5 | 0 | 0 | 0 | 0 | 0 | 0 | 0 | 0 | 4 | 0 | 0 | 0 | 0 | 0 | 0 |
| Total | - | 32 | 3 | 42 | 27 | 15 | 0 | 0 | 0 | 0 | 1 | 0 | 1 | 4 | 11 | 0 | 0 | 2 | 45 | 0 | 0 |