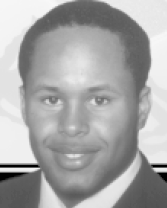 Nationality

United States

Position

FL, ST, WR

Birthday

11/9/1982

Hometown

Dayton, OH

High School

Chaminade-Julienne

Height

5'11"

Weight

185

Current Team

Ohio State

Seasons

2001, 2002, 2003
Major: Family Resource Management (2003), Unknown (2001-02)
Weight: 185 (2001-03)
2003 Media Guide: Angelo Chattams is yet another member of the Buckeyes' talented and deep receiving corps … accelerates very quickly off the line of scrimmage and has outstanding quickness … lettered as a true freshman in 2001 and had a pair of receptions … only action last year was with the special teams and the season opener vs. Texas Tech … was tried briefly at cornerback as a freshman, but never seemed to feel comfortable at that position and returned to flanker after just one week with the defense … should help out on special teams this year.
2002: Only appearance of the year came against Texas Tech in the season opener.
2002 Media Guide: Angelo Chattams is a talented young receiver with a great burst and outstanding quickness … appeared in nine games for a total of 37 minutes last year as a true freshman and earned his first varsity letter … longest stint was 16 minutes at UCLA, where he also hauled in his first collegiate reception … was tried briefly at cornerback when injuries took their toll there, but never really felt comfortable on defense and returned to the offensive side of the ball a week later … also an effective special teams player.
2001: UCLA grab was good for 9 yards … only other reception on the year came the following week at Indiana and was good for 17 yards.
2001 Media Guide: First-Team Division III Associated Press All-Ohio selection as a junior and senior … player of the year in the Greater Catholic League … No. 1 receiver prospect in the state by SuperPrep … totaled 78 receptions for 1,100 yards and 19 touchdowns as a senior … 80 receptions and 16 touchdowns as a junior … selected to play in the Big 33 All-Star game … also played basketball for two years and ran track … born Nov. 9, 1982 … son of Charlene Chattams … one brother, Andre … cousin with former NBA basketball player Wilt Chamberlain … National Honor Society member … enjoys going to movies, traveling and spending time with family.
Offense
| Season | Team | G | GS | Tgt | Rec | Rec Yds | Rec TD | Lng | 2 Pt Conv | Fum | Lost | FR |
| --- | --- | --- | --- | --- | --- | --- | --- | --- | --- | --- | --- | --- |
| 2001 | Ohio State | 9 | 0 | 6 | 2 | 26 | 0 | 17 | 0 | 0 | 0 | 1 |
| 2002 | Ohio State | 1 | 0 | 0 | 0 | 0 | 0 | 0 | 0 | 0 | 0 | 0 |
| 2003 | Ohio State | 0 | 0 | 0 | 0 | 0 | 0 | 0 | 0 | 0 | 0 | 0 |
| Total | - | 10 | 0 | 6 | 2 | 26 | 0 | 17 | 0 | 0 | 0 | 1 |
Defense
| Season | Team | G | GS | Tkl | Solo | Asst | FF | FR |
| --- | --- | --- | --- | --- | --- | --- | --- | --- |
| 2001 | Ohio State | 9 | 0 | 0 | 0 | 0 | 1 | 1 |
| 2002 | Ohio State | 1 | 0 | 0 | 0 | 0 | 0 | 0 |
| 2003 | Ohio State | 0 | 0 | 0 | 0 | 0 | 0 | 0 |
| Total | - | 10 | 0 | 0 | 0 | 0 | 1 | 1 |