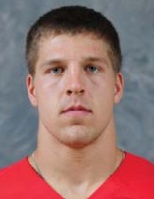 Nationality

United States

Position

FB, ILB

Hometown

Coldwater, OH

High School

Coldwater

Height

6'0"

Weight

248

Past Teams

Ohio State

Seasons

2009, 2010, 2011, 2012
Pronunciation: HOH-man
Major: Exercise Science (2011-12)
Weight: 245 (2012), 248 (2011), 238 (2010), 184 (2009)
2012 Media Guide: Adam, a fourth-year senior, is a reserve fullback who is also used significantly on special teams … he is a three-year letterwinner who has played in 34 games over the last three years, including 12 as a true freshman in 2009 and 13 in 2010 … he missed three games early in the 2011 season with a knee issue, but came back from surgery to play in seven of the team's last eight games … at 6-3 and almost 250 pounds, Adam is used primarily as a blocker on offense, but he does have a couple of pass receptions, both coming against Purdue (for 11 total yards) in 2010.
2011 Media Guide: Bruising fullback who has been a capable contributor on special teams as well …
quick study who has picked up the Buckeye system with ease … will continue to expand his role with
experience.
2010: Backup to Zach Boren at fullback and a key cog of the special units … pair of catches gained 11 yards versus Purdue … academic all-Big Ten … second-year letterman.
High School: Fullback/linebacker prospect with outstanding Buckeye family ties … Ohio Division IV and Midwest Athletic Conference defensive player of the year … 90 tackles as a senior … first team all-state, all-MAC, all-district for Coach John Reed … Cavaliers won state title his junior season … Super Prep Midwest Top 75 … National Honor Society.
Personal: Son of Dave and Alice Homan … older brother Ross is a Buckeye linebacker … enrolled in January.
Offense
| Season | Team | G | GS | Tgt | Rec | Rec Yds | Rec Avg | Rec TD | Lng | 2 Pt Conv | Fum | Lost | FR | Def TD |
| --- | --- | --- | --- | --- | --- | --- | --- | --- | --- | --- | --- | --- | --- | --- |
| 2009 | Ohio State | 12 | NA | 0 | 0 | 0 | 0 | 0 | 0 | 0 | 0 | 0 | 0 | 0 |
| 2010 | Ohio State | 13 | NA | NA | 3 | 18 | 6.0 | 0 | 7 | 0 | 0 | 0 | 0 | 0 |
| 2011 | Ohio State | 9 | NA | 0 | 0 | 0 | 0 | 0 | 0 | 0 | 0 | 0 | 0 | 0 |
| Total | - | 34 | 0 | 0 | 3 | 18 | 0 | 0 | 7 | 0 | 0 | 0 | 0 | 0 |
Defense
| Season | Team | G | GS | Tkl | Solo | Asst | TFL | TFL Yds | Sacks | Sack Yds | FF | FR | Int | Int Yds | PBU | Blk | Def TD |
| --- | --- | --- | --- | --- | --- | --- | --- | --- | --- | --- | --- | --- | --- | --- | --- | --- | --- |
| 2009 | Ohio State | 12 | NA | 2 | 1 | 1 | 0 | 0 | 0 | 0 | 0 | 0 | 0 | 0 | 0 | 0 | 0 |
| 2010 | Ohio State | 13 | NA | 0 | 0 | 0 | 0 | 0 | 0 | 0 | 0 | 0 | 0 | 0 | 0 | 0 | 0 |
| 2011 | Ohio State | 9 | NA | 2 | 1 | 1 | 0 | 0 | 0 | 0 | 0 | 0 | 0 | 0 | 0 | 0 | 0 |
| Total | - | 34 | 0 | 4 | 2 | 2 | 0 | 0 | 0 | 0 | 0 | 0 | 0 | 0 | 0 | 0 | 0 |